DWITW Traveling Bible
We've got a special Bible that travels around Dayton filled with notes and illustrations from women all over the city. how fun is that? all DWITW Women are welcome to contribute to the bible. We would love for you to join in on the fun and share what God is revealing to you!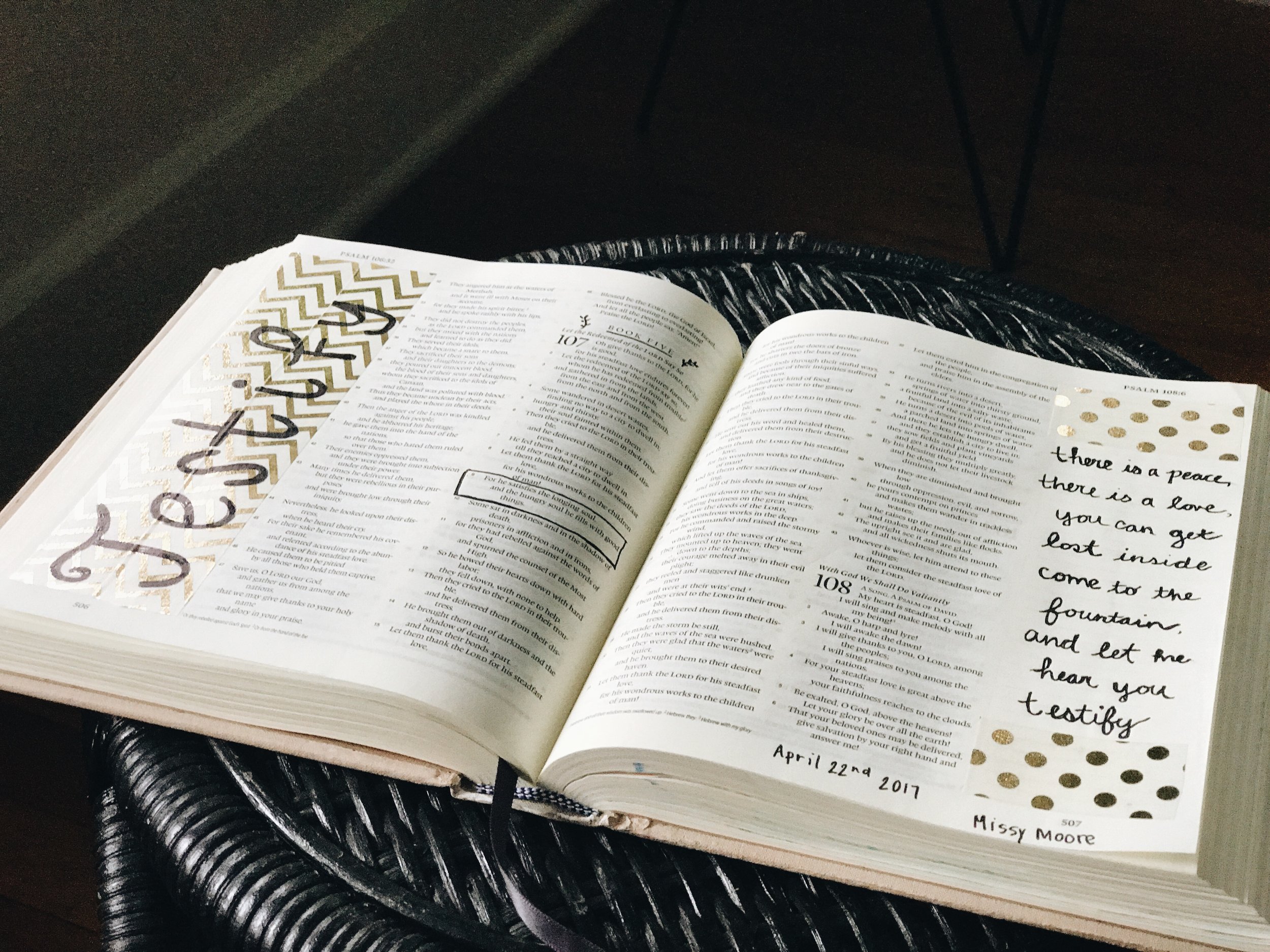 TRaveling bible faqs
What is a traveling bible?
DWITW's traveling bible is a special bible that is passed between women all over our city and filled with our notes and illustrations. It is an ESV journaling bible that was designed exclusively for DWITW by Hosanna Revival. Check out her site for your own custom journaling Bible!
How does it work?
Each woman will receive the bible by hand-delivery or by mail, choose a page (or a few pages!) to journal on, mark it with their name and the date, and then pass it on to the next woman within one week. Bonus points if you share a photo on social media with the hashtag #dwitwtravelingbible!
How long do I keep it?
We ask that you keep the bible no longer than a week before passing it on to the next woman. You're welcome to journal in as many places as you want throughout the week.
How do I pass it on?
As soon as you get the bible, you will email dwitwbible@gmail.com for the next woman's information. The DWITW Team will give you the contact information for her and you'll be responsible for setting up a time and place to drop off the bible. That woman will also receive an email from the DWITW Team letting her know to expect the bible in one week.
If one of you is not willing or able to meet locally, that person may choose to pay for shipping and the bible may be mailed. Anyone out of the local area that requires shipping and signs up for the bible will be responsible for the cost of shipping. Please contact the team at dwitwbible@gmail.com with specific shipping questions.
Who is it for?
It's for all of us! If you're a woman in Dayton who is reading the Word of God, you can be part of this special project. Whether you're an artist or not, we want you to contribute to this bible!

What can I do in the bible?
You can write, draw, paint or watercolor, use stickers, stamps and ink pads (Staz-On is a good no-bleed brand), markers, tabs, scrapbook paper and glue, washi tape, whatever you like! Try to find items that won't bleed through the bible pages so that the page opposite yours can be used (you can find no-bleed pens from Sharpie and Staedtler in most office or craft supply areas). If you have specific questions about techniques or types of materials to use, email the team at dwitwbible@gmail.com.
Where can I get inspiration for bible journaling?
We love the Illustrated Faith community! Check out the hashtags #illustratedfaith, #biblejournaling and #biblejournalingcommunity on Instagram or search for specific books or verses on Pinterest. If you're new to bible journaling, check out their 7 Steps to Illustrating Your Faith for help!
Sign up here to get on the list!